Makeup is the most confusing thing when you're a beginner. It's fun but it can be overwhelming when there's a gazillion makeup products to choose from. I remember the first time I got into makeup back in college. I was so clueless. I wasted money on random makeup I didn't know how to use. I wish I had that "cool" big sister or friend that was into makeup to help me. So today, let me be your big (or little) sister, and I will show you what you need to start with makeup. I hope you find it helpful!
Everything you need should fit in this medium makeup bag.
FACE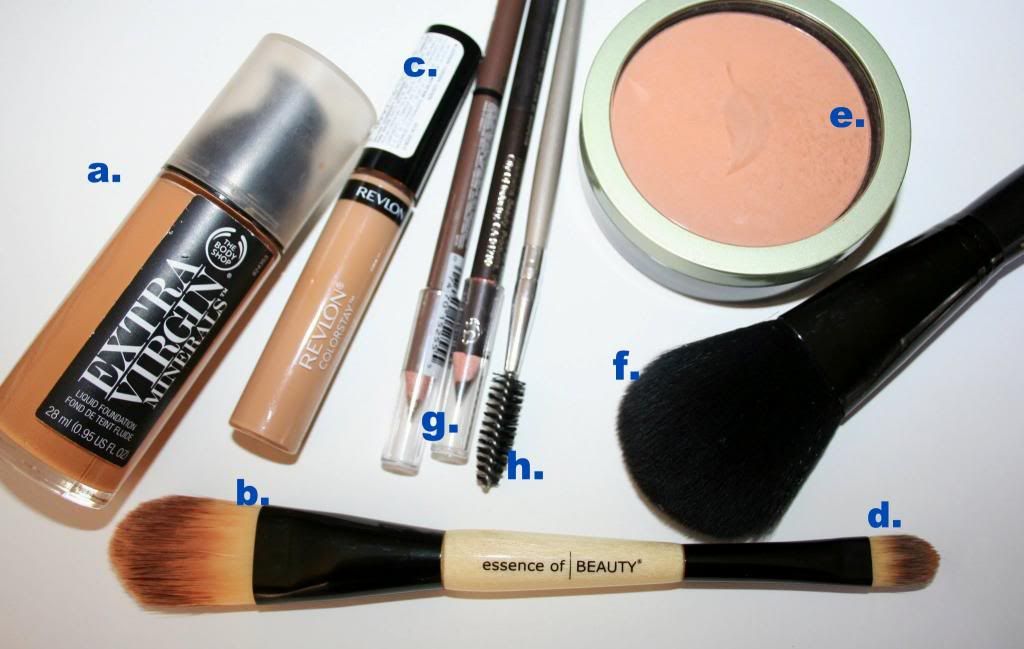 a.
LIQUID FOUNDATION
- Use it to even out the skin tone. I recommend liquid because you can build up the coverage. You can go from sheer to medium. I love
The Body Shop's Extra Virgin Minerals liquid foundation
.
b.
FOUNDATION BRUSH
- It applies liquid foundation. You can also use your fingers, but using a brush will give you a better finish.
c.
CONCEALER
- Cover up dark circles, blemishes, and discoloration on the face. I recommend getting a concealer one shade lighter than your skin tone. Right now my favorite is
Revlon's Colorstay concealer
.
d.
CONCEALER BRUSH
- For applying and blending concealer. You can use your finger too, but a brush will give a precise application.
e.
FOUNDATION POWDER
- It sets the makeup so it will stay on longer. It also prevents shine. You can also use it on it's own if you want sheer coverage.
f.
POWDER BRUSH
- Use for applying powder. I like the
studio mineral powder brush by EyesLipsFace
. Use it as a powder, blush, and bronzer brush.
g.
BROW PENCILS
- It helps fill in the gaps and define the eye brows. You can find inexpensive ones at the drugstore. My favorites are Wet n Wild brow pencils in
Taupe
and
Mink
.
h.
SPOOLY
- It helps blend the eye brow color.
EYES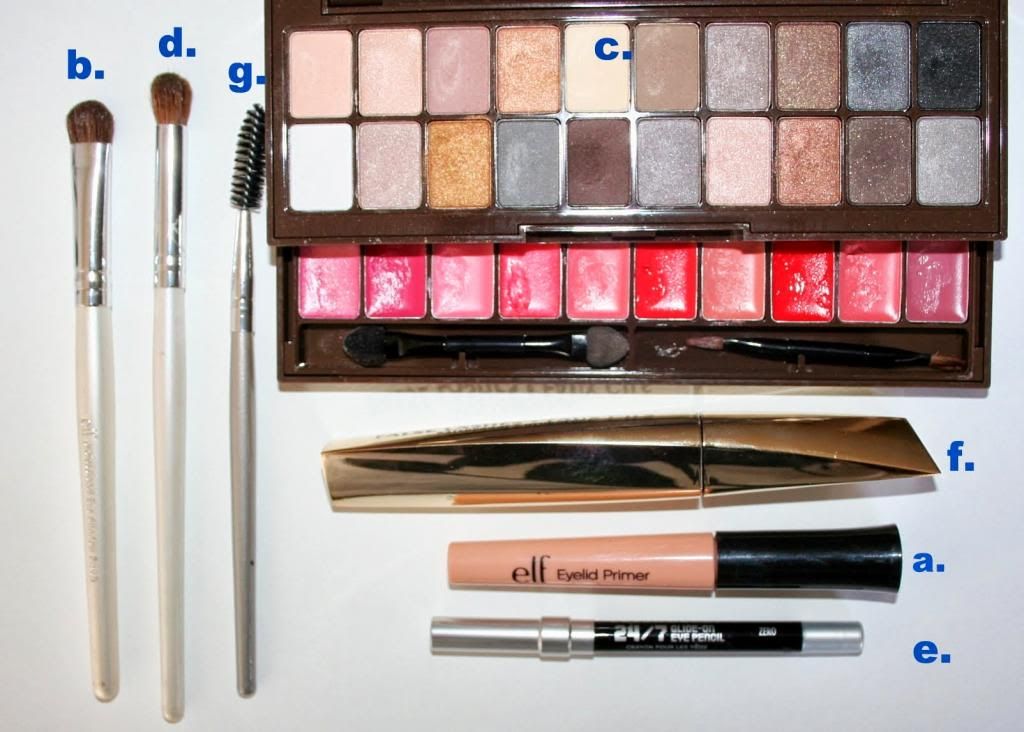 a.
EYE PRIMER
- It prevents eye shadows from creasing. My favorite is the
eye lid primer by EyesLipsFace
.
b.
EYE SHADOW BRUSH
- It helps apply the eye shadows on the lids.
c
.
EYE SHADOW PALETTE
- Start with an eye shadow palette. Look for neutral eye shadows like browns, taupe, beige, gold, gray, and black. I recommend the
NYX Nude on Nude makeup palette
. It has 20 eye shadows and 10 lip colors/gloss.
d.
CREASE BRUSH
- It helps apply eye shadows on the crease.
e
.
EYE LINER PENCIL
- For defining the eyes. I recommend a pencil because it's easier to use. Choose a dark brown or black.
f.
MASCARA
- It defines and darkens the lashes. Drugstores carry inexpensive and awesome mascaras. My fave is
L'Oreal Voluminous false lashes waterproof mascara
.
g
.
SPOOLY
(optional) - It'll help comb out clumps.
h
.
BLENDING BRUSH
(not in photo) - I almost forgot this important brush! It helps blends the eye shadows.
CHEEKS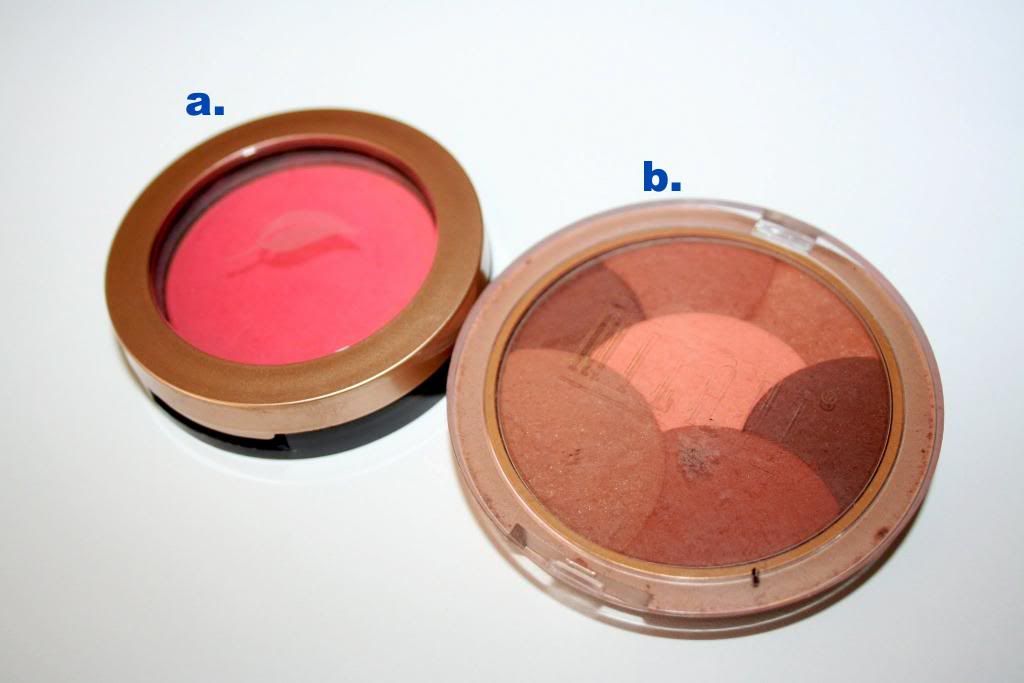 a.
BLUSH
- It gives the face a nice flush. I recommend a matte medium pink blush. It compliments any skin tone.
b
.
BRONZER
- To give the face a healthy glow.
LIPS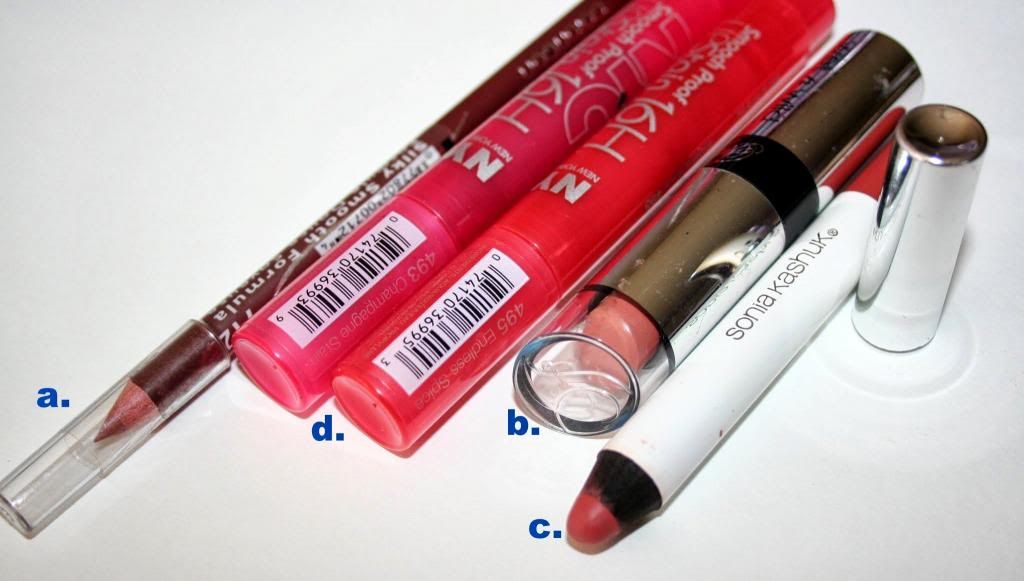 a
.
LIP LINER
- It prevents the lipstick from bleeding.
b.
NUDE LIPSTICK
- Pick a lip color close to your skin tone for a natural look. My favorite is
Wet n Wild Fergie Perfect Pout lip color
.
c
.
LIP CRAYON
(optional) - I think everyone should try it. It's so much easier to apply than lipstick. I like to use
Sonia Kashuk's lip crayon
.
d
.
LIP STAIN
- They are like markers for your lips. The color stays on all day. My favorites are the
lip stains from New York Color cosmetics
.
a. EYE LASH CURLER - For curling those lashes. The ones from the drugstore are inexpensive and effective.
b. FACIAL RAZOR - I guess this is optional, but I use it to shave the tiny hairs on my upper lip AKA mustache... O_o
c. TWEEZER - Pulls unwanted eye brow hairs.
d. SHARPENER - Sharpens eye liner pencils, lip liner and brow pencils.