This post is inspired by and in honor of Elaine's soon-to-be BABY! I think we're all looking forward to seeing pictures of her adorable offspring, right? So to start things off right, here's a super simple and easy newborn shot that Elaine (or Chase, maybe) can totally replicate with their little guy. New to photography or a recent mom? You listen up too!
Let me start off by saying that I am writing about newborn photography for beginners because
I am one
. A friend recently had this little guy and I shot some images to practice myself. This shot below was my favorite! Let me tell you a little bit how you can get one like it...
Big, soft blanket. Thicker is better because it will be more difficult for it to wrinkle and is more comfortable for the baby to lay on. Blankets with texture (furs, knit, etc.) photograph best.
Window light. THE MORE THE BETTER! We had this little guy literally two feet from the floor length window.
Baby wrap. Personal preference - babies love to be wrapped up nice and snug. It helps control the wiggly little arms and legs. Also, there's nothing cuter than a baby burrito.
Shallow depth of field. I used a 50 mm lens so I could get lots of soft blurry background. Choose an aperture as low as your camera allows.
Tuck your baby up nice and cozy in your cute baby blanket or wrap (Plus side: You can keep the diaper on for this shot and not worry about messes.) Tilt his or her face to be looking towards the light source. As you can see in these images below, try changing the angle for a little variety!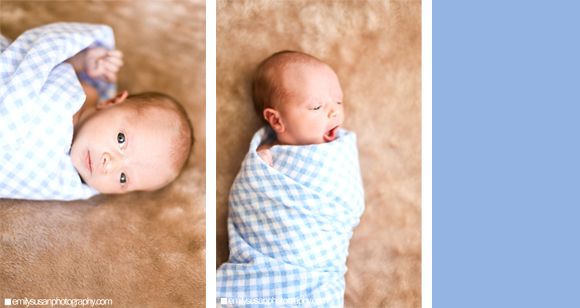 If you're not sure how to go about newborn photography, it is best to go
simple
. Don't risk putting a newborn in a gymnast pose or perched on props unless you know how to do so with safety.
I hope some of you found this post helpful!
Any photo how-tos you'd like to see? Let me know in the comments!