I decided to include more bloggers to Clothed Much and want to introduce the newest installment... Saturday guest bloggers! Every Saturday a guest blogger will post about anything modest fashion or beauty related. I want to make Clothed Much more communal than MEMEME. So I'd like to introduce the first Saturday guest blogger. Take it away, Brittney!
Hey guys. I'm Brittney from
A Day in the Life Too
… I'm a wife, a mom (three times), a long-distance runner, and a devout consumer of pnut m&ms. In bulk. And that, my dear friends, sums up all you need to know about me. Perhaps I should be alarmed about that...
So. For me, summertime = BBQs, swimming pools, and sunshine. I'm not complaining; all that stuff is heavenly. But when the sweat starts to flow like the…um…salmon of the Capistrani (woah. Totally just butchered THAT metaphor), it can be hard to find ways to stay modest without encroaching on frumpalicious territory. (yep. Frumpalicious. Eat your heart out, Wikipedia...)
ANYway. Sometimes in July and August, I dress in winter-wear, park myself on a stool in front of the fridge, and eat freezer pops all day long. (Pretty sure that the streets in heaven are lined with individual popsicle-stocked freezers.) But for the times that fridge-sitting isn't possible or practical, I've got some heat-averting tricks up my (short)sleeve.
Make cutoffs out of favorite worn out jeans.
Knee-length cutoffs can be a surprising component of a chic outfit. (And when I use a photo of myself as Exhibit A of "chic," let's all assume the word's being used verrrry loosely.) I think the style comes together with the accompanying pieces—a great shoe, a feminine top, some chunky jewelry.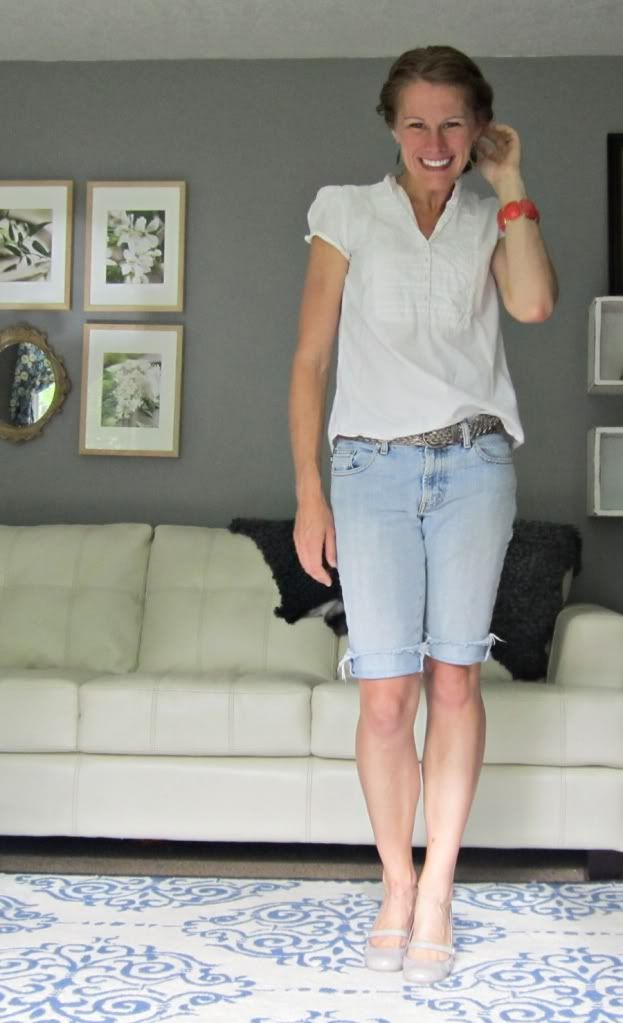 Wear skirts skirts skirts. From cotton to knit to even denim, skirts are a great way to style up while keeping temps down. Maxi skirts can be surprisingly cool for their length, but I like to go for knee-length...especially if I've shaved recently. (Hey, no sense wasting that rarity...) I can't talk enough about the glorious garment that is the skirt.
Invest in some loose, flowy tops. Although tees certainly have their place in my heart, a person can't live in them…can they? Not morally, anyway. (Again, apply a loose interpretation of the word.) Loose tops are (a) adorable, (b) comfortable, and (c) cool. The best ones are lightweight but not so super sheer that you have to wear aNOTHer layer underneath to keep things modest. (Made that mistake before…3 layers later, it doesn't exactly scream "I'm aware of my thermostatic surroundings.")


I'm a huge layering junkie, but this isn't as easy (or practical) to do in the hot temps. Ironically, for me, tank tops (because I can't wear them without some layer on top) are strictly cold-weather wear. So, rather than layer stuff, I try to make solid color palette choices with independently modest pieces instead. This adds a spark of personality and interest in an otherwise very basic ensemble.
Flip-flops can be overdone. Sure, they're about as non-invasive (body temp-wise) as an item can be, but in my opinion, flips aren't the most flattering footwear on the planet. With so many other cute sandals options available for combating the summer heat, I think flip-flops can be reserved for almost strictly beachwear. (They're also appropriate, nay, required, for late-night Walmart runs.)
Welp, there you have it. My ideas for staying modest AND cool*.
*Pun may or may not** have been intended.
**It totally was. Embarrassing but true.
Ciao, Brittney